---
Library Hours
Tuesday...........12-5

Wednesday......12-8

Thursday.........10-5

Friday..............12-5

Saturday..........10-5
Children's Story Time takes place on Wednesdays at 1 p.m. through the school year .
The second Saturday of each month The Friends open their book sale from 1 - 4 p.m. at the McKinleyville Shopping Center near the totem pole. Donations of gently used books, dvds and cds can be brought to the library during open hours.
Who are we?
The Friends of the McKinleyville Library are people from all walks of life who support our library. By paying modest yearly dues, members provide the working budget which allows us to fund our activities, including the costs of fundraising for our medium and long-range goals.
What The Friends Do
We routinely pay for newspaper and magazine subscriptions. The Friends also provide funding for children's programming and recently purchased a changing table for the restroom. In 2010 an addition to the library was built after more than a decade of fundraising and grant writing by FOML. The new room houses public computers, work spaces and WiFi throughout the library.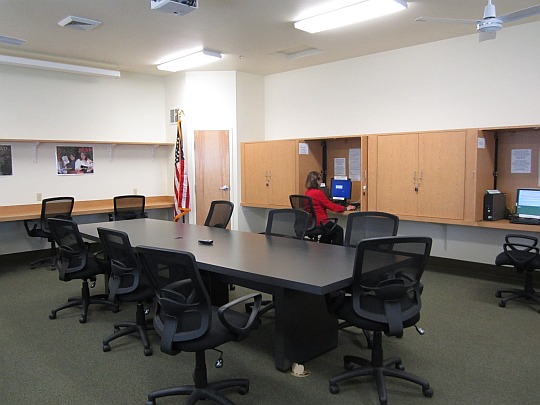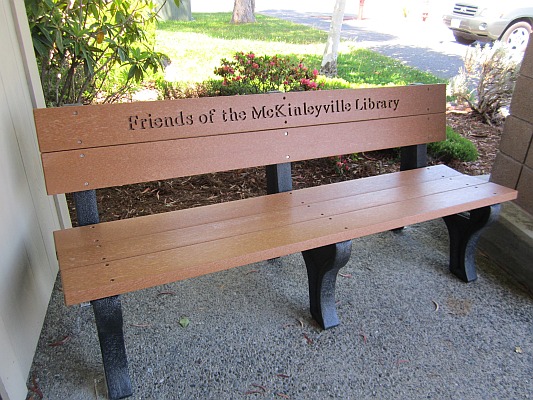 This bench was purchased by The Friends in 2012 and installed by MCSD. It graces the front entrance to the library. Hope that doesn't sound corny!
Click here to go to our membership form to print out and mail in.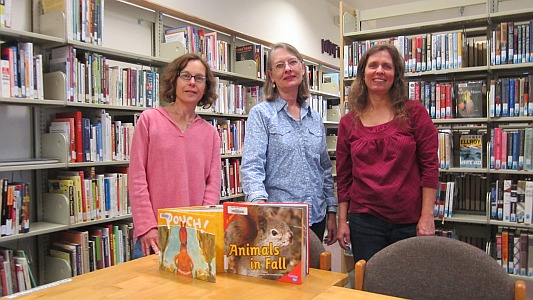 library worker Amy Dougan, Branch manager Sunny Fallingrain, and library worker Carol Waller
---
Not sure what to read?
Reading shouldn't seem like punishment. If it does, you're selecting the wrong books. Here are a few suggestions:
& Ask the library staff for recommendations.
& Ask friends and family what they are reading and why.
& Pursue an interest by looking for biographies of your favorite celebrity, nonfiction books about a hobby such as quilting or woodworking or books about the natural history of Humboldt County.
* Many popular movies and television shows are based on book; check out the original source for more depth.
w If a book seems too overwhelming, try a magazine on a subject that interests you.
w Join a reading group or start your own. Groups can be as simple as two people reading the same book and discussing it or as elaborate as you like, but they encourage you to try different books than the ones you are used to.
w Visit a web site devoted to books. One of the most complete is www.bookreporter.com. It has everything from reviews and author biographies to bestseller lists, awards, reading group guides and other features. The Booksense Bestseller list is available on-line at www.bookweb.org/indiebound/bestsellers.
Once you have the title and author of a book you'd like to read, you can use the computerized catalog to see if our system owns it. Books from anywhere in the county system can be ordered and picked up at the McKinleyville library. See the library staff or visit www.humlib.org for more details.
Is one book better for you than another?
Don't bet on it. Developing a love of reading is more important than subject matter.
Visit our list of more reading suggestions, including the New York Public Library's "Books of the Century," and a list of our local Reading Groups' choices.